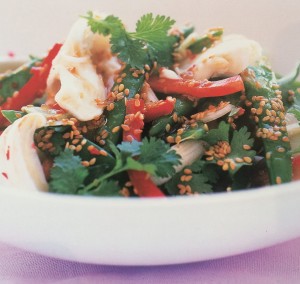 This light and tasty salad is great on its own or when added to a main, such as our blue eye trevalla with green beans recipe!
Ingredients:
4tbs olive oil
1tbs soy sauce
1tsp sesame oil
2tbs lime juice
1tsp sugar
1tsp finely grated fresh ginger
20 snow peas, trimmed
140g oyster mushrooms, quartered
30g coriander leaves
1 red capsicum, julienned
2 spring onions, trimmed and finely sliced
1 large red chilli, seeded and finely chopped
3tbs sesame seeds
Method:
To make the dressing, combine the olive oil, soy sauce, sesame oil, lime juice, sugar and ginger in a small bowl.
Blanch the snow peas in boiling water and refresh them under cold running water. Slice the peas in half lengthways and put them in a bowl with the mushrooms, coriander, capsicum, spring onion and chilli, then add the dressing and toss everything together. Season to taste.
Heat a nonstick pan over high heat, add the sesame seeds and lightly stir them around the pan until they are beginning to brown. Sprinkle the seeds over the salad.
Serves 4