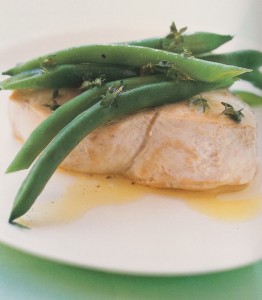 To make this a more filling main meal, add this delicious sesame salad.
Ingredients:
3tbs lemon juice
6tbs extra virgin olive oil
1 garlic clove, crushed
1tbs lemon thyme leaves
300g green beans, trimmed
4 blue eye trevalla steaks
2tbs light olive oil
Method:
Mix the lemon juice, extra virgin olive oil, garlic and lemon thyme together in a small bowl.
Bring a saucepan of salted water to the boil, drop in the green beans and cook for 1.5 to 2 minutes until they are just cooked through. Drain and refresh under cold running water.
Season the swordfish with salt. Put the light olive oil in a large frying pan over high heat. Add the swordfish and sear for 3 minutes or until golden brown. Turn over, reduce heat and leave for a further 3 to 4 minutes or until cooked through.
Put one blue eye steak on each plate and drizzle with the lemon thyme dressing. Top the fish with some green beans and season with pepper. Serve with steamed rice (optional).
Serves 4