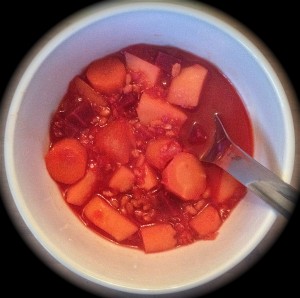 – A root or two is mighty good for you!
This soup recipe is jam-packed not just with one or two roots, but with multiple delectable and very colourful root vegetables. It is so easy to make and so full of goodness that it's hard to believe. It will soothe your tastebuds, strengthen your digestive system, nourish your blood, improve circulation, clear accumulations, moisten your insides, calm your mind, and excite your eyes. It doesn't get much better than that in ONE bowl!
Serves 4
Ingredients:
1 tbsp olive oil
1 onion, chopped
500g potatoes (desiree)
400g beetroot
400g parsnip
400g carrot
300g turnip
3 cloves of garlic, crushed
1 litre vegetable stock (preferable low-sodium)
250ml water
Freshly ground pepper
Suggested additions:
1/2-1 cup of pearl barley or quinoa
Fresh herbs
Instructions:
Prepare all the root vegetables by peeling and dicing them (try cutting the vegetables same size, so they cook evenly). Heat the oil in a large saucepan over medium-high heat. Cook onion until softened. Add the root vegetables and stir for 5 minutes, then add the garlic and stir for another 30 seconds. Add the stock and water (and barley or quinoa if including). Bring to the boil, then reduce heat and let it simmer (covered) for approximately 20 minutes or until the vegetables are tender. Season with pepper and any herbs you fancy.