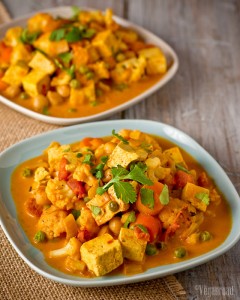 Cauliflower, pea and fried tofu curry
This is a delicious and warming vegetarian curry stuffed with protein and goodness.
Cauliflower is from the same family as cabbage, broccoli and kohlrabi and shares many of their health benefits. Both peas and cauliflower can help strengthen the digestive system. Tofu is a source of protein often used as an alternative to meat. Although tofu is generally a cooling food used to reduce heat signs, it is still fine to have in winter and by people with signs of a cold when combined with warming spices, cooked, and eaten only in moderation.
Serves 4
Ingredients:
2 tbsp olive oil
1 medium brown onion (150g), chopped coarsely
2 cloves garlic, crushed
900g cauliflower florets
1 tsp ground cumin
1/2 tsp ground coriander
1/2 tsp ground tumeric
1/4 tsp cayenne pepper
1 tsp garam masala
400g canned whole peeled tomatoes
1 cup (250ml) vegetable stock
400g firm tofu, cut into 1cm cubes
1/4 cup (60ml) vegetable oil
1 cup (125g) frozen peas, thawed
Instructions:
Heat oil in large saucepan, add onion and garlic and stir until onion has softened.
Add the cauliflower and spices and cook for approx 2 min. Keep stirring. Then add tomatoes and stock. Stir and bring to a boil. Reduce heat and let simmer, covered for 10 minutes or until cauliflower slightly softens.
Meanwhile, heat vegetable oil in a separate saucepan, medium size, and fry the tofu in batches until lightly coloured and crisp on all sides. Drain on absorbent paper.
Then add tofu and peas to the cauliflower curry and serve with boiled or steamed basmati rice.
(Recipe from "Women's Weekly Cookbooks; Meals in Minutes – Vegetarian")