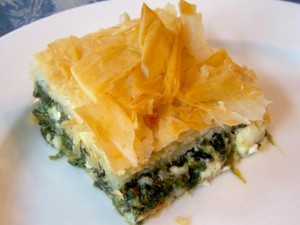 This traditional spinach pie is not only delicious, but also high in protein. Protein is essential for strengthening and nourishing our bodies.
Ingredients
1/4 cup olive oil
1 onion, finely chopped
1 bunch shallots, finely chopped
2 garlic cloves, crushed
1kg spinach
2 tbs dill, chopped
250g fetta, crumbled
150g ricotta
3 tbs parmesan, grated
4 eggs, lightly beaten
1/2 tsp nutmeg, grated
12 sheets filo pastry
120g butter, melted
Method
Heat the oil in a frypan, then add onion, shallots and garlic. Cook for 1 minute until softened, then add spinach and half the dill. Cook, stirring, over low heat for 1-2 minutes or until spinach has wilted. Drain in a colander and cool, then combine with cheeses, egg, nutmeg, salt and pepper.
Preheat oven to 180°C. Brush baking dish with butter. Lay one sheet of filo on base and sides and brush with butter. Repeat with 5 more sheets. Spread cheese mixture over top. Cover with remaining filo, brushing each sheet with butter. Trim excess pastry with kitchen scissors and tuck edges into sides of dish. Brush top with butter and score in diamond patterns.
Bake for 45 minutes or until golden. Rest for 10 minutes. Warm remaining butter, add remaining dill and, when serving, pour over sliced spanakopita.
Serves 8