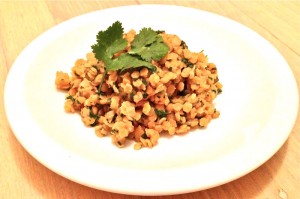 Lentils are cheap, nutritious and also very delicious!
According to Chinese Medicine lentils improve circulation, and strengthen your heart, kidneys, and constitutional essence.
Lentils enhance the health and appearance of your complexion and your hair.
And lentils support your will-power and encourage feelings of being calm and content.
This simple warm red lentil salad is easy and tasty. Suitable for any season with it's balanced mix of cooling and warming ingredients.
Ingredients:
(Serves 4)
2 tsp oil
2 tsp cumin seeds
2 cloves garlic
2 tsp grated ginger
1.5 cup red lentils
3 cups vegetable or chicken stock
2 tbsp chopped mint
2 tbsp chopped coriander
Method:
Heat the oil in a saucepan over medium heat. Add the cumin, garlic & ginger and cook for 2 min. Then add the lentils and cook for 1 min before adding the stock 1 cup at a time until the liquid has been absorbed. This could take up to 20 minutes. Once liquid is absorbed, remove the pan from the heat and stir through the fresh mint and coriander.
The salad looks and tastes beautiful when served on a bed of spinach leaves and topped with goat's cheese. Season with salt and pepper and serve with a wedge of lime. Enjoy!