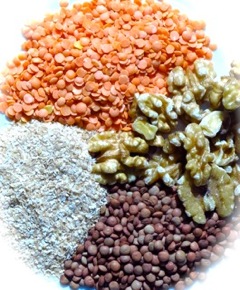 Feel a little less "mental" with some more lentil
Food is like medicine for both the body and the mind!
The ingredients in this recipe are not only warm, strengthening and comforting, but lentils and walnuts can also help us feel grounded and able to cope better. Wheat germ is pungent and can help lift depression and blockages that are felt as frustration and irritability. Bake and eat this to support your heart, kidneys and soul.
Ingredients:
1/2 onion, finely chopped

1 tsp olive oil

2 cups cooked lentils

1/2 cup wheat germ

1/2 cup whole-wheat breadcrumbs

1/2 cup walnuts, chopped

1/2 tsp dry sage or 1 tsp fresh sage

1/2 cup lentil broth or vegetable stock

1 tbs apple cider vinegar

Pinch of salt
Method:
Preheat oven to 180

Saute onions in oil. Combine with other ingredients and pack into a large loaf dish that has been pre-oiled.

Cover and bake for 30 minutes

Remove cover and cook for a further 10 minutes. Serve.
Recipe from "Food for the Seasons" by Professor Lun Wong