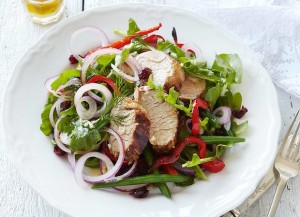 Pork fillet is an excellent, nutritious and lean meat. Alternatively, lamb fillet can be used and dill can be swapped for mint.
Naturally you can add any favourite vegetables to your salad. Sweet potato and fennel work well.
Bon appetite!
Serves 2
Ingredients
1 large clove garlic
50ml olive oil
50ml white balsamic vinegar
100g string beans
1 small red onion
1/2 cup dill, chopped
1 cup rocket
1/3 cup dried cranberries
1 small red capsicum
400 g pork fillet
Method
Crush garlic & mix well with olive oil & vinegar.
Blanch green beans in boiling water for 2 minutes, then cool in iced water & drain.
Slice onion thinly & combine with beans, dill, rocket & cranberries.
De-seed capsicum & slice lengthways, then give it & pork a light spray with olive oil. Chargrill both, turning as necessary. Remove capsicum when soft & pork when cooked through & golden brown on the outside. Cut pork into 1.5cm slices.
To serve, divide salad pork & capsicum evenly between plates.
Drizzle with olive oil dressing.