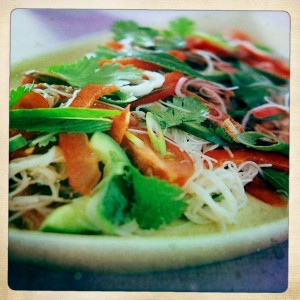 KEEP COOL, THAI STYLE
Here's great and easy recipe to try on the weekend, or on any hot day. It's yummy and cooling, has a good amount of protein and is usually a great hit with the kids too.
Serves 4
Thai Beef Salad
500g Beef rump steak
60g Bean thread or rice noodles
1 Lebanese cucumber (130g), seeded & thinly sliced
100g Cherry tomatoes, quartered
1 Small red capsicum (150g), thinly sliced
3 Green onions, thinly sliced
1/3 Cup firmly packed fresh coriander leaves
1/3 Cup firmly packed fresh mint leaves
Thai Dressing
¼ Cup (60ml) lemon juice
1 tbsp Fish Sauce
1 tbsp Brown sugar
1 tbsp Peanut oil
 Method:
Cook beef until browned on both sides and cooked as desired. Cover & stand for 10 minutes. Then thinly slice beef.
Meanwhile, cook noodles. Using kitchen scissors, cut noodles into random lengths, then combine with other ingredients.
Make Thai Dressing. Shake well to mix the dressing ingredients before tossing gently in bowl with all salad ingredients.