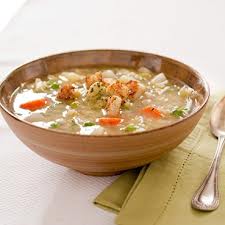 A post to warm you up!
Here is a warming and yummy recipe from Paul Pitchford's 'Healing with Whole Foods'. Paul suggests adding more sour flavours to autumn cooking, sourdough bread, olives, leeks, vinegar, yogurt, plums and grapes.
Move away from summer salads and embrace warm, nourishing dishes with lots of cooked veggies, soups, casseroles and porridge for breakfast.
If you are experiencing a dry cough at all, place an emphasis on foods which moisten such as soy products, tofu, soy milk, spinach, barley, millet, apple, persimmon, honey, seaweed, almond, sesame seed, pork and eggs.
Using a little salt in cooking also moistens dryness.
Enjoy!
Shepherd's Barley Soup
Serves 8
¼ onion, chopped (optional)
4 carrots, grated
2 parsnips, diced
1 tablespoon oil
2 cups water
1 cup barley
1/3 teaspoon ginger, grated
1 teaspoon sea salt or 1 tablespoon miso
Parsley to garnish
Method:
Sauté onion, carrots, and parsnips in oil. (optional)
Add water, barley, and ginger. Simmer for approx 1 hour.
Add salt or miso and simmer for 15 mins more.
Garnish with parsley