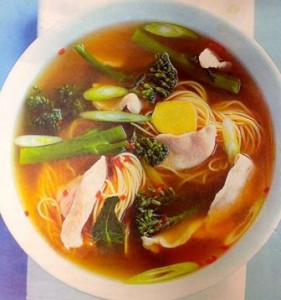 Easy and quick winter warmer chicken soup! This Asian Chicken Noodle soup is one of our absolute favourite cold and flu food remedies. It's easy, it's quick, it's yummy and as good as any medicine.
Serves 4
Ingredients:
220g thin dried egg noodles
7 cups chicken stock
3 spring onions
8 slices (15g) fresh ginger
2 teaspoons soy sauce
3 chicken breast fillets, trimmed & thinly sliced (chicken can be replaced by fish, pork or tofu)
1 long red chilli, seeded & finely chopped (leave out or put in less to make child friendly)
1 bunch of broccolini or any other vegetables of your choice (cabbage, bok choy, snow peas, baby corn, asparagus, kale, and carrots work really well in this recipe)
1 clove of crushed garlic (optional)
Method:
Place noodles in a heatproof bowl and cover with boiling water. Allow to stand for 6 minutes, then drain and set aside. (Or simply follow cooking instructions on pack)
Place stock, spring onions, ginger, soy sauce (and garlic) in a saucepan over medium heat. Bring to boil, add chicken & chilli and simmer for 5 minutes. Add noodles and veggies and cook for 1 minute before serving.