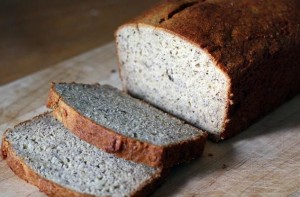 This recipe is gluten and sugar free, high in protein and low in carbohydrates.
Delicious fresh out of the oven with some almond butter or honey or enjoy it savory too. This recipe is SO easy, fuss free and requires little ingredients.
Coconut oil can be a good one for people trying to lose weight or generally just looking after their health, as it speeds up the metabolism and helps you feel fuller for longer too. From a Chinese Medicine perspective, coconut oil has anti viral and bacterial properties and has a cooling effect that balances the heating properties of the other ingredients here. A good immune booster too!
A good one to try out for the weekend, and enjoy with a cup of tea or coffee.
Ingredients:
6 eggs
1/2 cup melted coconut oil or butter
1-2 tablespoons honey (optional, I usually leave it out)
1/2 teaspoon sea salt
3/4 cup coconut flour
Method:
Mix all ingredients together and pour into a small buttered loaf pan. Bake at 180 degrees (Celsius) for 40 minutes.
Turn the loaf out and cool completely on a rack before serving. That's it! Enjoy.