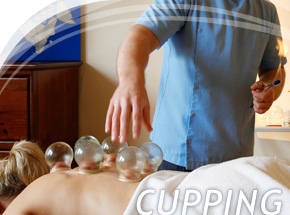 Cupping involves heating up a specially designed glass cup and placing this on the skin. The heat inside the cup creates suction and draws the skin and superficial muscles up into the cup. The strength of the suction will depend on the amount of heat used.
Due to the drawing up motion of cupping, the muscles are stretched which provides good relief from pain.
Cupping is mostly done on the back over acupuncture points. The cups are usually in place for about 15 minutes and can be moved from one spot to another. Cupping is not painful but may leave some bruising like marks on the back.  It is possible cupping may blister the skin if left on for too long, an attentive qualified practitioner will reduce this risk significantly.