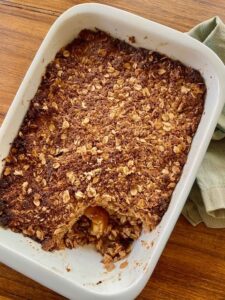 Apple crumble for breakfast?!
Yes indeed. Making some simple swaps turns this dessert into a nutritious breakfast.
Enjoy warm or cold with your favourite yoghurt.
Filling:
4 cups of peeled and sliced apples (4 med)
2 teaspoon fresh lemon juice
1 teaspoon vanilla
1/4 teaspoon ground cinnamon
1/4 teaspoon ground nutmeg
Topping:
1/2 cup almond flour
1/2 cup oats
1 tsp ground cinnamon
1/3 cup coconut sugar
3 Tbs  coconut oil
3 Tbs almond butter
Method
Preheat oven to 180
Place apples in an 8-inch square pan, pour lemon juice over. Add spices and vanilla, toss around to combine.
Mix almond flour, oats, spices, coconut sugar together in a medium sized mixing bowl. Cut coconut oil and almond butter in to make crumbly consistency.
Sprinkle over the apples, bake 30-40 minutes or until apples are tender and topping is golden brown. Serve warm or cold with some yoghurt.