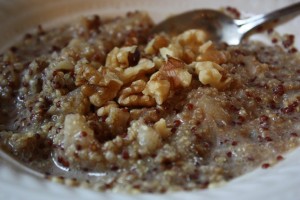 Oats are a great start to your day as they have a calming, stabilizing and grounding effect on the mind.
Oats have many healing properties: they are soothing, restore the nervous and reproductive systems, strengthen the spleen and pancreas, help remove cholesterol, regulate and build the Qi (energy) in the body.
Oats also contain phosphorus, required for brain and nerve formation, so it's a great breakfast ingredient.
Oats are easy to use and prepare and very versatile. You can add them to soups, breads, muesli, and desserts.
Here are instructions on how to prepare porridge on the stove- instant pre packet sachets just won't cut it!
This recipe combines oats with quinoa (also known as "the mother grain"), another terrific source of protein and nourishment that tonifies the kidneys and generally strengthens the whole body.
This recipe is taken from Healing with Whole Foods by Paul Pitchford.
Ingredients:
1 cup quinoa soaked
1 cup rolled oats
¼ teaspoon sea salt (optional)
3 cups water
Method:
Before soaking, rinse quinoa well several times to reduce bitterness from saponin on its surface

Place all ingredients in pot, cover

Simmer 20 mins

Turn heat off and let sit 5 minutes with closed lid

Serve with cooked fruit or anything you like such as nuts, flaxseed oil, cinnamon or Manuka honey