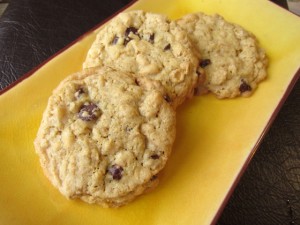 Ingredients:
1 cup of tahini (or any nut butter)
1/2 cup agave
1 teaspoon ground cinnamon
1 1/2 cups quick cooking oats or old-fashioned oats
1/2 cup chopped walnuts, pecans (any nuts)
chopped up bar of dark chocolate
Method:
Preheat the oven to 175 degrees C. Grease cookie sheets or use parchment paper.
In a large bowl, stir together the tahini, agave and cinnamon. Mix in walnut, chocolate and oats until well blended. Drop by teaspoonfuls onto the prepared cookie sheets. Cookies should be about 2 inches apart.
Bake for 10 minutes in the preheated oven, or until edges are slightly brown. Cool on the baking sheet for a few minutes before removing to wire racks to cool completely.