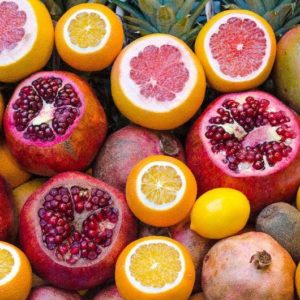 Here is a list of foods, drinks and herbs that are cooling:
Cooling Foods
Apples
Asparagus
Avocado
Banana (not eaten excessively)
Basil
Broccoli/Cauliflower
Cabbage
Melons/Papaya
Celery
Chrysanthemum (tea)
Crab (not eaten excessively)
Cucumber
Duck
Eggplant
Grapefruit
Lettuce
Mung Beans
Pears
Peppermint
Plums
Rhubarb
Rye
Seaweed
Sesame
Soybeans
Spinach
Water Chestnuts
Cooling & Strengthening Foods
Coconut
Eggs
Figs
Grapes
Kidney Beans
Lotus Root
If you tend to get overheated avoid:  Fatty, greasy and sugary foods and drinks.
Examples of Warming Foods (not to be eaten excessively)
Butter
Capers
Peppers/Capsicum
Chicken
Crayfish
Black Tea
Garlic/Onion/Chili/Ginger
Trout/Tuna
Mustards
Strawberries
Lamb
Prawns/Oysters(Detrimental for skin conditions)
As with everything try to eat in moderation and ensure you get plenty of variety. Bon Appetite!