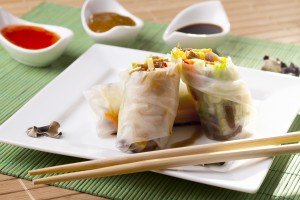 Rice-paper rolls are one of our favourite dinner and lunch box solutions. Wrapped in pliable rice-paper sheets you can make rockin' rolls with any fillings you or your family fancy, and to suit any season.
Here is a delicious Vietnamese inspired recipe with mint and minced pork. The pork can easily be replaced with minced chicken or beef.
Mint is a cooling herb that can help with heat related pain such as headaches, indigestion and summer colds. Coriander is good for indigestion and cabbage helps to disperse heat-based inflammation such as rashes.
Mint is generally a great herb to include in your meals and drinks during the warmer summer months, however if you tend to run a bit hot, the vegetarian roll options mentioned below are perhaps better suited for you this season.
Serves 4
Ingredients:
350g Minced Pork (or chicken or beef)
1 clove garlic
1 tsp grated fresh ginger
1 tsp five-spice powder
350g finely shredded Chinese cabbage
4 spring onions thinly sliced
1 tbsp soy sauce
1/4 cup (60ml) oyster sauce
1/4 cup tightly packed, coarsely chopped fresh coriander leaves
1/4 cup tightly packed, coarsely chopped mint (we prefer Vietnamese mint)
12 x 22cm rice paper sheets (available at most super markets and Asian grocers)
1/4 cup (60ml) sweet chilli sauce
2 tbsp lime juice
Method:
Making the filling:
1. Cook the garlic, ginger, spice and pork in a large non-stick frying pan or wok. Keep stirring until the meat is cooked through.
2. Add cabbage, onion, soy sauce, oyster sauce and some of the coriander and mint (approx. 2 tbsp of each herb). Cook, stirring, until the cabbage is just wilted.
Wrapping:
3. Place one sheet of rice paper in a medium bowl of warm water until slightly softened. Then lift the sheet carefully from the water and place it on a board. Pat dry with absorbent paper. (Christina usually places the wet rice paper sheet on one half of a clean tea towel and pats dry with the other half).
4. Place a twelfth of the meat filling mixture in centre of the rice paper sheet; fold in sides sheet and then roll from top to bottom to enclose filling. Repeat with remaining rice paper sheets and filling.
Cooking:
5. Place the rolls in a single layer in large steamer set over a large saucepan of simmering water. Steam, covered, for about 5 minutes or until just heated through.
Serving:
6. Serve the rolls as a starter with dipping sauce made from mixing chilli sauce, lime juice and the remaining coriander and mint, or serve as a main with an Asian (noodle) salad, your favourite Asian greens or rice.
TIPS!
Once you get quick at rolling you can skip the steaming (step 5) as the rolls will already be warm and ready to serve.
Alternatively you can prepare the rolls a day ahead. Store them in the fridge and steam them just before serving.
As cold lunch box item we suggest trying a vegetarian alternative. Fill your rolls with cooked glass noodles, tofu, thin egg omelet and/or sticks of vegetables you like, such as cucumber, carrot, capsicum, snow peas, kale or bean sprouts.