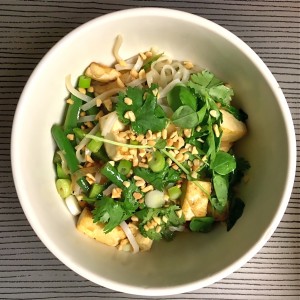 Pad Thai is popular because it tastes great!
Here's Michelle Bridges' healthy homemade take on what's often a rather greasy and fatty restaurant choice. Instead, this nutritious version can easily be converted into a vegetarian or allergy friendly meal, and a quick weeknight favourite for both adults and kids.
Serves 4
Ingredients:
200g dried rice-stick noodles
300g chicken breast fillet, trimmed and thinly sliced
2 small onions, halved and thinly sliced
3 garlic cloves, crushed
1 large red capsicum, thinly sliced
300g snow peas, thinly sliced on the diagonal
2 tbsp fish sauce
2 tbsp lime juice, plus wedges to serve
3-4 tsp grated palm sugar
1-2 cups bean sprouts
2 spring onions, sliced on the diagonal
1 cup freshly chopped coriander leaves
1-2 tbsp chopped peanuts, toasted to serve
Tofu cubes can be added or used as an alternative protein to chicken.
Add any favourite vegetables to your liking, such as green beans, baby corn or bok choy.
The peanuts can be left out or replaced with other nuts or seeds, such as cashews or sesame.
Method:
Mix together the fish sauce, lime juice and palm sugar. Set aside.
Cook noodles as per packet instructions.
Heat a bit of oil on medium-high heat in a large non-stick wok. Stir-fry the chicken (or tofu) for 2-3 minutes until browned and cooked through. Set aside.
Heat a bit more oil in the wok, then stir-fry the onion for a minute. Add capsicum, snow peas and any other vegetables. Stir-fry for approx 4 minutes or until just tender. Add garlic and stir-fry for 30 seconds.
Add the chicken (or tofu), cooked noodles, fish sauce, lime juice and palm sugar. Toss gently. Remove from heat and then gently toss through the bean sprouts, spring onion and coriander. Garnish with peanuts and serve with lime wedges.