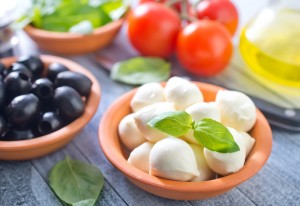 Basil is a wonderful herb to eat in summer as it is cooling and drying. The combination of tomatoes, olives and vinegar in this recipe encourages energy down and enhances the cooling effect.
Ingredients:
3 cups basil leaves, torn in half
black pepper
1/2 cup extra virgin olive oil
500g cherry tomatoes, halved
1/2 cup black olives, pitted and sliced
6 bocconcini, sliced
2 tsp red wine vinegar
Method:
Put the basil, pepper, most of the oil, tomatoes and olives in a large bowl. Put the bocconcini and remaining oil in another bowl. Add some pepper and let everything sit for half an hour.
Drain the bocconcini and place in a bowl. Add the vinegar to the basil and tomato mix, then tip over the bocconcini.
Serve with wholemeal toast
Recipe courtesy of Food for the Seasons.