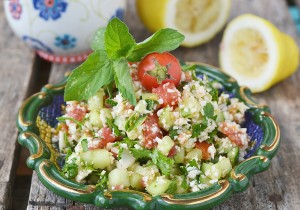 Tabouli is one of our favourite salads and a delicious accompaniment to almost any meat or meal.
Tabouli is traditionally made from cracked wheat in the form of cous cous or bulghur, but can just as easily be made with wheat and gluten free alternatives such as quinoa or millet.
Wheat is cool, sweet, strengthening and calming and benefits the heart, spleen and kidneys. Tomatoes and cucumbers are also cooling and therefore perfect during the heat of summer. Cucumbers can help quench thirst and remove toxins especially from the upper body. Tomatoes (in moderate amounts) promote digestion and moisten dryness. Parsley also supports digestion as well as it removes mucus and toxins.
With this mix of ingredients you'll have a beautifully balanced and flavoursome salad.
Ingredients:
(Serves 4)
11/2 cups cous cous
3 tomatoes, finely diced
1 small (lebanese) cucumber, finely diced
1/2 cup fresh parsley (flat- or curly leaf), chopped
1/2 cup fresh mint leaves, chopped
4 spring onions, finely chopped
Juice of a lemon
1 tbsp olive oil
Freshly ground pepper
Soak the cous cous or bulghur in boiled water or stock and let it sit for 10 minutes or so (see specific instructions on the package of your product). Fluff it with a fork. Mix with the other ingredients and then it's ready to serve 🙂
Tabouli can also be made in advance and kept in the fridge until serving or for next day's lunch.
For vegetarians (and for any one else who like it) we recommend adding tofu for protein during summer. Tofu is considered cold, so the best time to eat it is when the weather is warmer.
You can add any other favourites for variety and to suit your tastebuds or the occasion. We like adding anything from figs (moistening) to pomegranates (sweet, sour, astringent and cool) or pistachios (bitter and sweet, support liver and kidneys). As always try to keep it simple, consider the season and your personal needs when choosing ingredients!
Click here for more inspiration on summer foods and cooling ingredients, or have a read here to find out why eating according to the seasons and weather will benefit your health and wellbeing.