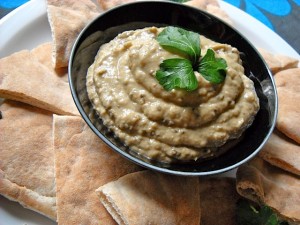 Eggplant is in season now (summer and autumn) and is a great food for your blood. It both moves and cools the blood. It can also help reduce imbalanced flow, reduce stagnation and relieve problems caused by overeating meat.
Enjoy this easy recipe for a tasty eggplant dip, great to have as a snack with veggie sticks or bread, as a spread in a sandwich or wrap, or as a condiment with a main meal.
Ingredients:
1 large eggplant, unpeeled
1 large clove of garlic, crushed
2 tbsp Tahini (sesame paste)
1/2 lemon, juiced
1 tsp ground cumin
Salt to taste
Parsley, chopped (to garnish)
Sweet paprika (optional)
Olive Oil
Method:
Cut the eggplant in halves and brush a bit of olive oil on the fleshy part. Using a fork prick the skin side of the eggplant a few times.
Roast in oven at 200 degrees for approx 30-40 min depending on size of eggplant.
Remove the eggplant from oven and let it cool down before scooping the insides of the eggplant into a bowl, discarding the peel.
Mix the remaining ingredients (except for the garnish) with the eggplant and mash or mix until it becomes a smooth paste/dip. Serve with olive oil, parsley and perhaps a sprinkle of sweet paprika.
Serves 4-6 as a dip