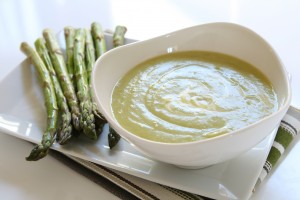 Asparagus are cold, sweet and bitter. They help counterbalance heat caused by the environment. Asparagus are now in season so here is a great soup that can cool you down when summer eventually arrives.
Serves 4
Ingredients:
50g butter or vegetable oil
2 sprigs thyme
1 onion, chopped
2 potatoes, scrubbed and finely chopped
500g asparagus
pinch of salt
black pepper
extra thyme, chopped
sour cream or yoghurt, optional
Method:
In a large saucepan, melt the butter or oil and saute thyme, onion and potatoes for five minutes. Add a litre of water, cover and simmer until the potatoes are thoroughly cooked. Meanwhile, break off the tough ends of the asparagus. Cut off the tips of eight asparagus spears and put them aside.
Finely chop remaining asparagus and, with salt, add to main saucepan when potatoes are cooked. Boil rapidly for five minutes. Boil the eight spears in a separate saucepan for five minutes, then drain. Puree contents of the main saucepan and put through a strainer to remove fibres from the asparagus.
Add two spears, pepper, chopped thyme and a small dash of sour cream to each bowl of soup. Serve.
Recipe courtesy of Food for the Seasons