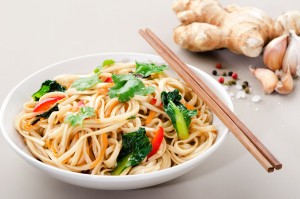 Seasonal vegetables with rice noodles (or zucchini spirals for no carb option) are a healthy food option in any season. Sesame oil is strengthening and calming for the liver, and broccoli is particularly good in early spring. You can also substitute the ingredients in this recipe with other delicious spring vegetables such as cabbage, carrots, shiitake mushrooms, snow peas or spinach.
Ingredients
Pinch of salt
250g rice noodles (or Zucchini spirals)
1 cup sliced mushrooms
2 tbs sesame oil
1 cup broccoli
1 cup bean shoots
1 tbs shoyu
1 tbs extra sesame oil
Method
Bring a large saucepan of water to the boil, adding a pinch of salt. Add the noodles and boil until 'done' (check noodles for even colour and consistency inside and out). Drain and rinse under cold water.
While the noodles are cooking, saute mushrooms in sesame oil in a wok for three minutes. Add broccoli and saute for 4 minutes.
When the noodles are ready, add them to the wok with the bean shoots, shoyu and extra oil and stir all ingredients together for a minute or two. Serve immediately.
Serves 2
Recipe courtesy of Food for the Seasons