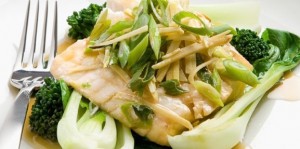 Ingredients:
300g assorted Asian greens such as bok choy, choy sum, snow peas or bean shoots
4 swordfish steaks
4 stems coriander
8 kaffir lime leaves
4 stalks lemongrass, halved
4 green chillies, sliced
Pepper and lime to serve
Method:
Line 4 bamboo steamers with non-stick baking paper and allow paper to generously overhang steamers
Place mixed greens in the base of the steamers. Wrap a coriander stem around each swordfish steak and place fish on the greens
Top swordfish with lime leaves, lemon grass and chillies. Fold over baking paper to cover fish and put on steamer lid
Place steamer over simmering water and steam for 4-5 minutes or until swordfish are cooked. Serve with black pepper and lime wedges.
Serves 4