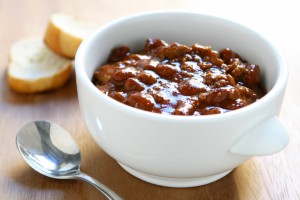 The herbs in this dish clear the lungs and the digestive system. The beef and beans warm and build yin.
Serves 4
Ingredients:
500g borlotti beans, soaked overnight and drained
300g steak, chopped into small cubes
2 onions, chopped
3 bay leaves
2tbs olive oil
500g tomatoes, peeled and chopped
3 okra, sliced
pinch of salt
2tsp pepper
2tsp paprika
2tsp ground cardamom
2tsp ground cumin
2tbs polenta
Method:
Place beans, beef, onions and bay leaves in a casserole dish. Just cover with cold water. Warm slowly, then cover and simmer until the beans are cooked (check after about 2 hours. You may need to add some extra water.)
Heat over to 180. In a heavy frying pan, heat oil, stir in tomatoes, okra, spices and polenta. Simmer for 10 minutes, then tip into the meat and bean mixture.
Place the casserole dish in the oven for another hour.