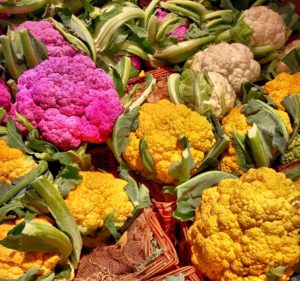 Foods rich in anti oxidants, (fight free radicles, preventing oxidative stress and cell damage within the body) and omega-3 fatty acids, may help many anti inflammatory conditions.
Eat Less of
Processed foods
Deep fried foods
Refined sugar 
Alcohol
Eat More of
Dark leafy greens – Kale, Bok choy, Brussel Sprouts. full of anti oxidants.  and anti inflammatory properties.
Berries – blueberries, strawberries and Cherries. Full of anti oxidants.
Citrus fruits – Full of anti oxidants
Cruciferous vegetables – Broccoli, cabbage and cauliflower. Full of antioxidants. Eat these as often as you can. Why not try substituting your rice for cauliflower rice. For a recipe click here
Oily fish – salmon (wild), tuna (in moderation), sardines. All full of Omega-3 fatty acids
Seeds and nuts – walnuts, sunflower seeds and pumpkin seeds.
Olive Oil – Virgin olive oil contains the phenolic compound oleocanthal, which has an anti inflammatory effect on the body.
Herbs and Spices
Turmeric – Contains Curcumin which has strong anti-oxidative and anti inflammatory actions.
Clove – Anti inflammatory activity
Ginger – Contains Gingerols which have strong anti inflammatory properties.
Rosemary – Contains anti oxidants
Oregano – Contain anti oxidants
There are lot's of yummy recipes out there that incorporate the foods listed. For our Antioxidant Breakfast recipe click here.
As always everything in moderation