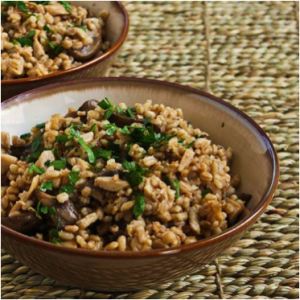 Mushrooms are terrific in autumn as they remove phlegm and toxins. They also relieve fatigue and boost energy. Barley is also an energy booster and improves physical strength. It can also help with indigestion and diarrhea. Thyme can ease the common cold and associated symptoms such as headache, cough, aches, pains and a sore throat. Parsley aids digestion and removes mucus. Pine nuts provide moisture for the lungs which can ease a dry cough.
Ingredients:
26g dried porcini
200g fresh mushrooms (button, shiitake or any other favourites)
1 ½ cup boiling water
30ml olive oil
1 clove garlic
150g barley
175ml vegetable broth
1 dried bay leaf
1 sprig fresh thyme
Fresh parsley
Small handful pine nuts (optional)
Salt and pepper
Method:
Place the dried mushrooms in a glass bowl and cover with boiling water. Leave for 30 minutes.
Take out the mushrooms and keep the water.
Heat oil in a pot over medium heat and add the onion. Cook for 3-4 minutes until the onion becomes translucent. Add the garlic and barley and cook, stirring, for about a minute.
Add the mushroom broth, the vegetable broth, fresh mushrooms, the bay leaf, the thyme, parsley and salt and pepper to taste. Simmer, covered, on low heat, for 45 minutes, stirring regularly.
Toast the pine nuts in a pan over low heat
When ready to serve, remove the herbs and add the porcini mushrooms and pine nuts.
Serves 4