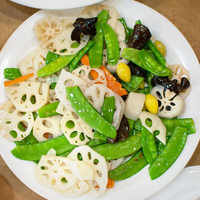 This stir-fry is perfect for spring. For this time of year steaming, stir frying or sautéing vegetables rather then baking is preferable. This will ensure food maintains it's spring vitality. Spring is the season of the liver. The sesame oil will help to strengthen and calm the liver while the mushrooms will help support digestion. Lotus root will nourish digestion and blood also providing support for the liver.
 Ingredients
Half a whole lotus root thinly sliced
1 piece of fresh ginger, peeled and chopped
2 Garlic cloves, peeled and chopped
1 ½ Cups of roughly chopped green onions
Olive Oil
Vinegar for Lotus root water
1 tablespoon of sesame seeds
Pepper
1 ½ tablespoons tamari or any naturally brewed soy sauce
1 teaspoon of sesame oil.
1 Cup Bean shoots
1 cup of sliced shitake mushrooms
1 cup of broccoli/snow peas
Method
Slice the lotus root and place in vinegar water (2 tbls vinegar to 3 cups water) Soak the lotus root for 20 to 30 minutes then rinse well under water.
Heat up a large frying pan and add the oil. Add ginger and garlic, and stir fry until the oil is very fragrant.
Add the drained lotus root slices in a single layer. Cook until the lotus root slices start to turn translucent looking. Turn over and cook a couple more minutes.
Add the mushrooms and stir-fry until they turn soft.
Add the chili pepper, green onions, bean shoots and broccoli florets and stir-fry. Add the sesame seeds, pepper, soy sauce and sesame oil.
The lotus roots should get a bit caramelised from the soy sauce. Serve hot or cold.