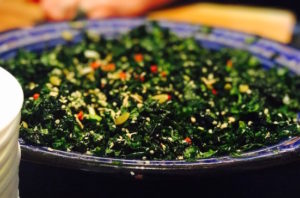 Tenderized Greens with Tahini, Umeboshi & Ginger Dressing
The amazing Living Food Chef & Educator Renee McCready from Raw Flow Food has created and shared this spring salad recipe with us. According to Chinese medicine green is the colour and pungent the flavour of spring. This is not just another kale salad as it's packed with fresh herbs and seeds and the massaging technique gives it the look and feel of being cooked. This recipe will make a big container and can last around 5 days in the fridge. It makes a fabulous addition to any and every meal, so nutritious!
Ingredients:
1-2 bunches fresh kale (tuscan, black)
2 cups of fresh mint & fill
1/2 cup goji berries
1/2 cup pepitas (pumpkin seeds)
1/2 cup sunflower seeds
A good handful of hemp seeds
Juice of 1-2 fresh limes or lemons
1/4 cup cold pressed olive oil
2 teaspoon's celtic or himalayan sea salt
A thumb of grated fresh ginger
*optional: 1 fresh hot red chili plus a good handful fresh sprouts for crunch and extra nutritional benefits.
Instructions:
Wash and slice the kale thinly, and place in a bowl. Cut a few bunches of fresh herbs of your choice, add this to the kale. Add lemon or lime juice, olive oil and salt. With clean hands gently massage until the kale takes on a cooked look, this tenderizes the greens and breaks down the cell wall making it easier to digest. Stir through goji, pepitas, hemp seeds and sunflower seeds, and the grated ginger.
Place in an airtight container and keep in the fridge for up to 5 days.
Tahini, Umeboshi and Ginger Dressing
This dressing is a favorite! It can be used to dress your salads, your buddha bowls or drizzled over a big tray of roasted veggies. The pungent Umeboshi is used a great deal in Japan as a digestive aid, its very alkaline, and promotes the elimination of toxins. Tahini is an excellent source of calcium & protein.
Ingredients:
1 cup hulled tahini
1/4 cup umeboshi vinegar
Juice from 1 fresh lemon
1 cup purified water
Thumb of ginger, grated
Big pinch of celtic or Himalayan salt
Instructions: Blend until smooth. Store in a sealed jar.
We thank Renee for this delicious contribution to our recipe collection 🙂
You can follow and find out more about Renee and Raw Flow Food here:
https://www.facebook.com/rawflowfood
https://www.rawkiflow.com/
https://www.instagram.com/rawkiflow/