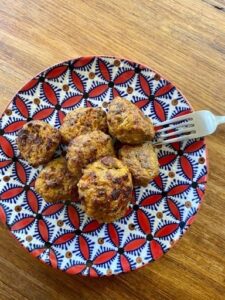 Cooking Tips & Tricks For Supercharged Meatballs
Tips on how to make your meatballs superfood worthy (and extra delicious):
Use almond meal as your binding agent for gluten free balls and blood sugar stabilisation
Add bone broth powder and grass fed gelatine for gut support
A pinch of seaweed flakes adds important trace minerals, such as iodine.
Nutritional yeast flakes will boost your vitamin Bs and add a yummy Parmesan flavour
Most importantly, add vegetables. Try adding shredded capsicum, carrot, fennel and celery.
Ps. the trick with meatballs is to use very cold mince and to work the mixture well.