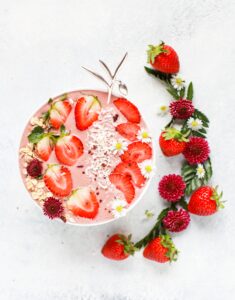 This delicious smoothie is a gut loving bowl full of vitamin C and antioxidants. You can be as creative as you like with toppings. You have the option of an additional sweetener. However the bananas and berries will make it sweet enough without.
Ingredients
1/2 cups frozen berries
Handful of kale or baby spinach leaves
1/2 frozen banana
1/2 cup water
1/4 cup plain yoghurt (coconut or coconut kefir yoghurt)
Toppings
Seeds (hemp, pumpkin, sunflower, chia)
Coconut flakes
1 tsp peanut/nut butter
Granola
Anything else you desire
Method
For easy blending add ingredients in this order: water, yoghurt/kefir, frozen berries and bananas (if using a single serve blender reverse the order) Add a little more water if having any trouble blending.
Pour into bowl, add toppings and enjoy.