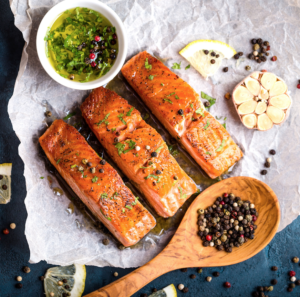 Wild caught salmon is rich in the omega 3's EPA and DHA. These are essential for brain development, growth and cell membrane health. They also help to reduce inflammation and can reduce the severity of allergies and skin conditions such as eczema.
I love to marinate my salmon in:
1-2 crushed garlic cloves,
1 tablespoon tamari,
1 tablespoon coconut amino,
1 teaspoon honey, 1 drizzle of olive oil
1 small piece of crushed ginger.
Let this sit in the fridge for 1-2 hours then,
either pan fry or bake in the oven until cooked.
Curtesy of our resident clinical nutritionist Margo White