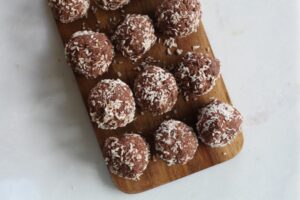 These delicious bliss balls are the perfect snack to bring to a festive gathering. Goji berries are high in antioxidants, especially zeaxanthin which helps the eyes. They contain large amounts of vitamins A and C, which together with the antioxidants help the immune system. They also contain beta-carotene, which is known for its ability to promote healthy skin. Cacao Contains vitamin A, D and E plus other minerals and medicinal properties. So you can enjoy these in moderation without feeling too guilty.
1 cup nut butter
5 pitted medjool dates
3 tabs honey (or other sweetener)
1 tsp vanilla extract
2 tbs cacao powder
1/4 cup goji berries
1/2 cup desiccated coconut (plus extra for rolling balls in)
Method
Melt the nut butter.
Add all ingredients except goji berries to a food processor and mix until combined.
Add goji berries and mix until combined.
using wet hands take small handfuls of the mixture and roll into balls.
roll each ball in desiccated coconut and place in fridge until firm.
Store in an airtight container in the fridge.