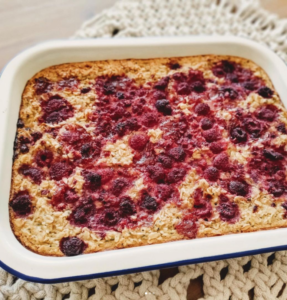 Need some breakfast inspiration?
Our nutritionist Margo White has created fruity baked oats that the whole family can enjoy!
Ingreadients
2 cups oats
2 cups milk (coconut, almond, cows, soy)
1 tsp cinnamon
2 eggs
I grated zucchini (extra nutrition and you can't taste it)
2 tbsp hemp seeds
1 mashed banana
1/4 cup maple syrup (optional)
1 cup fresh or frozen berries
Method
Preheat oven to 180 C. Grease a medium baking dish with butter.
In a medium bowel mix all the ingredients together and pour into the greased baking dish. Top with berries.
Bake at 180 C for 30 mins or until fully cooked.
Serve warm or cold with a dollop of greek or coconut yoghurt and a tablespoon of peanut or almond butter.