What actually happens in a Cosmetic acupuncture appointment? What should you expect?
Are you wondering what exactly happens in a Cosmetic Acupuncture appointment? Liah runs us through what to expect during an appointment and shows us what a cosmetic acupuncture treatment actually looks like.
What is Cosmetic Acupuncture?
As the title implies, Cosmetic Acupuncture is designed to help improve your complexion and rejuvenate your skin. It involves the combination of body acupuncture, facial acupuncture and specialised Gua Sha (massage technique) to target the face, skin and hair.
Unlike other treatments, which usually involve the injection of chemicals to change how the muscles contract in your face, acupuncture is a process that can naturally help your skin look healthier, smoother, and younger. Cosmetic acupuncture will both focus on the body's overall health, which has a flow-on effect on the skin.
What are the Benefits?
Help increase blood flow to your face
Full body treatments in conjunction to bring that glow from the inside out
Help to increase energy and relax the body
It's natural and chemical-free
What to expect in a Cosmetic appointment step-by-step
So, what should you actually expect to happen in a cosmetic acupuncture appointment? What does the treatment really look like?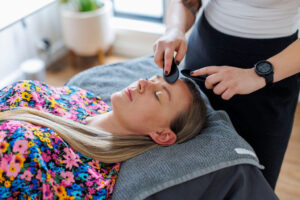 Local needling: to the areas of concern, usually the face, scalp, or other specific scar tissue.
Gua sha: (a form of stimulatory massage) or cupping to these same areas.
Regular acupuncture: helps constitutional health and balance. Your face and skin will reflect what's happening on the inside, so it's essential to address both.
Common skin complaints we see:
Fine lines and wrinkles
Eye bags
Jowls
Skin complexion
Dry skin,
and cellulite to name a few.
To learn more about Cosmetic Acupuncture treatments, please don't hesitate to reach out.
For more information on Cosmetic Acupuncture, click here.