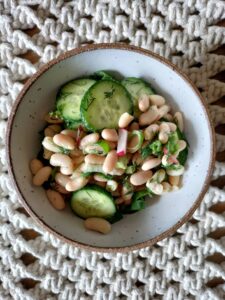 This Dill and Cucumber Salad is the perfect summer side salad!
This Dill and Cucumber Salad is the perfect summer side dish. Not only is it delicious, but it also has medicinal properties as well! In terms of Traditional Chinese Medicine (TCM), the cucumber is known for its cool nature, giving it the ability to clear heat and eliminate toxins from the body. This cool nature of the cucumber makes it the perfect ingredient for a salad during the warm summer months to keep us nice and cool.
Cucumbers are cooling, hydrating, and support lung function. Cucumbers assist in promoting urination and can soothe and benefit the eyes and skin during the hot summer months. When paired with vinegar in a salad, together, they can support the liver. In TCM, the liver is associated with sour flavours. Sour foods can help to soothe the liver and direct foods, or herbs if we're talking about treatment, straight to the liver.
Dill & Cucumber Salad Recipe
Dressing Ingredients:
1 garlic clove, minced
Juice of 1 small lemon
2 tablespoons extra virgin olive oil
1 tablespoon of balsamic vinegar
1 teaspoon Dijon mustard
Salt and pepper to taste
Salad Ingredients:
2 x 400g cans of cannellini beans
2 cucumbers, thinly sliced
3 radishes, cut into chopsticks
Half a bunch of fresh dill, stems removed and finely chopped
2 spring onions, finely sliced
Instructions:
Make the dressing: add the garlic, lemon juice, oil, mustard, salt, and pepper to a small bowl and whisk together.
Make the Salad: add the beans, cucumber, radishes, dill, and green onions to a large bowl. Add the dressing to the bowl and then mix well until evenly incorporated.
Enjoy for lunch as is, on sourdough or with some extra protein like salmon or chicken breast. 
Recipe courtesy of our resident nutritionist Margo White from Whole Body Nutrition. Click here to book an appointment with Margo.