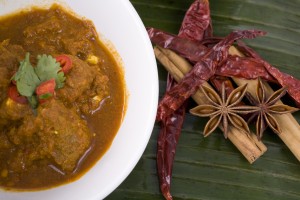 This is a perfect winter dish! With its simple mix of meat and spices it's not only delectable but will nourish and warm you (and Josh, whoever he is..?) deep from the inside.
Lamb warms your digestive system and directs warmth to the lower parts of your body. It improves circulation, blood production and lactation, making it great for new mothers and those suffering from anemia or weakness!
Ginger, garlic, onions, cardamom and cinnamon are all warming. Garlic and onions can be too strong if eaten in excessive amounts, so don't overdo those. However, cinnamon is sweet and great if you feel weak, if you alternate between chills and fever or if you suffer from cold hands and feet. Cardamom is very gentle in its ability to warm and can help clear and ease digestive complaints, such as reflux, nausea, indigestion, diarrhea and loss of appetite. It can even help ease a hangover! And bay leaves push the cold out of the body as well as regulating and strengthening your Qi (energy). The tomatoes are cooling and help flavour and balance the dish beautifully.
Serves 6
Ingredients:
1.5 kg lamb shoulder, (chopped coarsely if boned or in large chunks if still on the bone)
2 large brown onions, sliced thinly
5 cm piece (25gr) of fresh ginger, grated
3 cloves garlic, crushed
1/2 cup (150gr) Rogan Josh paste
2 tbsp tomato paste
400 gr canned diced tomatoes
1/2 cup (125ml) beef stock
1 cinnamon stick
4 cardamom pods, bruised
2 dried bay leaves
1/2 cup fresh coriander leaves, loosely packed
Instructions:
Put lamb, onion, ginger, garlic, pastes, undrained tomatoes, stock, cinnamon, cardamom and bay leaves in a 4.5 (18 cup) slow cooker. Season to taste. Cook covered, on low, for 8 hours.
Serve with a sprinkle of the fresh coriander, some steamed rice, fresh green vegetables and a good plain (unsweetened) yoghurt (or raita)
(Recipe courtesy of The Australian Women's Weekly Slow Cooker)