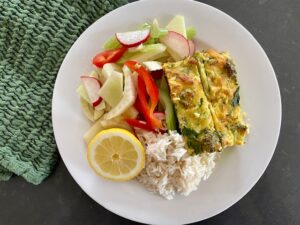 The importance of gut health
Break the fast with this protein rich vegetable slice curtesy of the Natural Nutritionist  along with some cooked and cooled rice made with coconut milk.
Cooking and cooling the rice creates resistant starch which is so important for our gut health. The added coconut milk will provide us with healthy fats to keep us going.
Recipe
For the vegetable slice recipe from the Natural Nutritionist  click here
Coconut Rice
Ingredients
2 cups of rice (your choice)
1 can of coconut milk
1 1/2 cups water
Method
Rinse the rice until water runs clear
Add rice, coconut milk and water to medium sized saucepan and bring to boil on high heat. Turn down to low cover and allow to simmer for 20 mins
For the last 5 mins cook uncovered
Cool before eating.
Add a side salad with as many different coloured seasonal vegetables you can to sneak that rainbow into your diet.