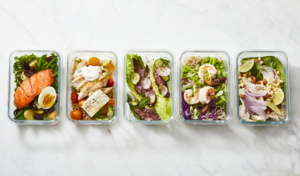 At Gardenvale TCM, we are strong believers that having a plan is the key ingredient to achieving success; and when it comes to eating and feeling healthy, things are no different.
This is where including meal prep into your weekly routine becomes a valuable tool. Preparing our daily meals in advance will not only support us in staying on track, but it also can empower us to achieve our healthy lifestyle aspirations for the days ahead. We are sure you can agree that having nutritional meals ready and waiting for when hunger strikes is never a bad thing, and while implementing goals to plan ahead is often straightforward, following through with new healthy habits, and staying consistent, can be tricky.
In this blog we'll be giving you some practical tips to assist in making these strong intentions into a reality. Essentially, food prep involves implementing strategies with meals to save time, control portions and to help in consuming a nutritional diet regularly without getting overwhelmed or choosing other, less healthy, meals out of convenience.
Meal prep can exist in many different shapes and forms, so it is important to find a routine that works for you and your lifestyle. For example, if you always find yourself rushed in the mornings making you skip breakfast completely, or if you order food every lunch time during the week because you're so busy with work, having a prepared breakfast and lunch will help you make healthy decisions.
Getting Started
Get into the habit of choosing one specific day of the week to meal prep. That includes planning a menu, writing out all groceries that you'll need and going to the supermarket, so that you can come home and start your cooking. Even though this can sound quite overwhelming, once you get into the swing of things, it can actually help to free up time and give you more freedom during the rest of the week.
As you begin to get more familiar with your favourite meals to prep, you can stock up on shelf-stable ingredients to help cut back the time spent prepping. This can include rice, legumes, grain, beans, canned sauces, oils and spices.
For breakfasts and lunches, use individual containers to divide food into portions on prep day to ensure you have enough to last you for the days you have prepared. 
When you're looking to incorporate meal prep strategies into your life and routine, the ultimate goal is a quick and minimal effort option so you can stay on track with your nutrition and health goals. Hence, by getting yourself organised at the start of the week with veggies steamed and proteins pre-cooked, or with your meals boxed up for the upcoming days, you will save time everyday while giving yourself the best chance to feel good.
If you need some extra help with achieving you nutritional goal, please book in to see Nick or Margo at the clinic.