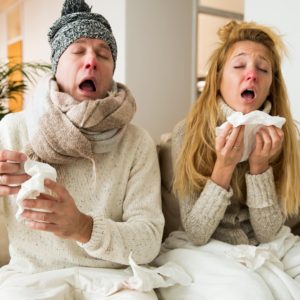 We tend to be more susceptible to colds during winter, as the wind and cold can force our immune system to work harder than it is used to.
The nature of cold is slow and constricting and this can occur on a physiological level as it constricts our blood vessels and impacts circulation, leading to particularly stiff and achy joints. 
One of the fundamental principles of Traditional Chinese Medicine is to synchronise yourself with each season, this can help us to stay healthy throughout the year, strengthening our immune response and preventing illness.
In winter, the sun rises later and sets earlier, this is nature's way of telling us to slow down and do less. Winter is the time to withdraw inward, and in a literal sense spend as much time inside as possible. Think about all the animals that hibernate during winter – they have the right idea!
The neck is particularly vulnerable to wind and cold (or in Melbourne's case right now – COLD WIND). One way we can quickly protect ourselves is by keeping rugged up. This means it's time to get out your favourite scarves and turtle-necks
Our bodies prefer to eat what is seasonably available. In Victoria, this includes pears, apples, citrus, cruciferous vegetables, root vegetables, mushrooms, kale, spinach, and silverbeet.
Opt for warming or aromatic herbs and spices such as ginger, garlic, lemongrass, chives, and cinnamon.
(Did you know that you can use ginger externally on sore and achy joints? Some herbal plasters contain ginger for its warming quality and effects of blood circulation, but if you are in a pinch a sliced knob of ginger will do! )
Hearty soups, stews and curries are easy to digest and assist us in keeping warm and nourished during the colder months. It is best to cook these foods for longer periods with a low heat and less water for optimal benefits.
Cold and raw foods should be kept to a minimum during this time to keep us as warm as possible internally, as these foods use more energy to digest and metabolise them. This can lead to symptoms like fatigue or tiredness after eating.
Fruits can be poached or stewed so that we can still enjoy them.
If you're really feeling it this winter talk to your TCM practitioner. We have a number of tips and tools in the clinic that can warm you up and help the physiological functions of your body. Book in to see Liah, Michelle or Nick at the clinic.