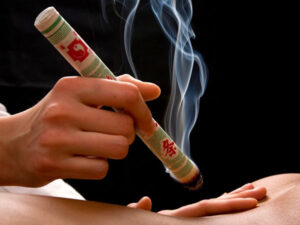 That persistent Melbourne cold loves to make its way into our bodies and lodge deep into our muscles and channels. Feeling creaky and stiff in the morning? Cold fingers and toes? Slow digestion? You may have Cold in your channels.
Cold can also make its way into our bodies through diet: raw, cold, and energetically cold foods (such as tofu, bananas, cucumbers, crab, etc.) enter the digestive tract and spread Cold. This not only slows the digestion process, but can also potentially cause symptoms such as:
loose stools
muscle stiffness or pain
menstrual irregularities
fatigue
tummy pain
fluid retention
runny nose
frequent urination
cold limbs
If you relate, then Moxa may be your friend.
Moxibustion is the therapeutic act of burning the dried herb leaves of Mugwort (Artemisia vulgaris) [moxa] over or on the skin to warm and nourish the organs and channels. It can also dredge accumulations from channels and move Blood and Qi.
An example of Moxa is needlehead moxa. A compacted smokeless version of moxa is placed on on the head of the needle. This helps the herb's properties and warmth penetrate deep into the muscle. You get to experience a grounding, deep warmth in your body as it kickstarts any stagnant Qi or Cold in your channels.
In other terms, moxibustion has an infrared effect and therefore can more deeply stimulate certain acupuncture points. This can assist with your personalised treatment of bringing the body back to homeostasis, as well as helping to improve cardiovascular and metabolic health. Moxibustion has been shown to improve red blood cell production and immune function as well as white blood cell count. It not only increases circulation and removes accumulations, Moxa also stimulates and strengthens the organs and channels. This manifests as strength in joints and muscles, pain relief, physical energy, mental clarity, regular bowel movements, and healthy circulation.
In Traditional Chinese medicine, we talk about a Kidney Fire that drives the functions of all the organs. Moxibustion can add fuel to the fire and allow our bodies to be stronger in their processes.
If all that wasn't enough already, Moxa also has the ability to coax excess detrimental Heat out of the body that stress, foods, and emotions can often generate.
You can now see why I love using Moxa with my patients, its versatility makes it one of the most powerful herbs of the bunch!
Michelle McNeill
Practitioner of Traditional Chinese Medicine
Michelle McNeill is available Tuesdays 1pm-6pm. Click here to book.