Gardenvale TCM offering herbal medicine & Acupuncture near Elwood

Gardenvale Chinese Medicine is conveniently located on Hawthorn Road in Caulfield South just 4km from Elwood, offering acupuncture treatments and herbal medicine. There is plenty of on street parking available on Hawthorn Road and the 68 Tram stops right outside the clinic. It is only an 8 minute drive from Leaf, our favourite fresh produce store on Ormond rd Elwood.
Please click here for the clinics location in relation to the Leaf store.
Our staff at Gardenvale Chinese Medicine are warm and attentive. You will find our clinic is clean, modern and inviting. All of our practitioners are Government registered through AHPRA, have ample experience and are equipped to assist with a large range of health and lifestyle concerns. To learn more click here
Services
We offer acupuncture or Chinese herbal medicine consults which involve a detailed discussion based on traditional Chinese medicine, diet & lifestyle. Clients can have acupuncture and/or a herbal consult in which they can leave with a prescribed formula. Prescriptions come in the form of granule herbs, tinctures (liquid) or pills. Our skilled practitioners can offer herbal prescriptions to assist with a range of conditions. To learn more click here
We offer HICAPS upon acupuncture appointments and can claim it for you at the time of your appointment so long as you bring your private healthcare card. We also have an easy to use online booking system
One of our most frequently asked questions is does acupuncture hurt?
To answer… It should not hurt if performed by an experienced registered practitioner. There are points that may be more sensitive than others upon insertion. Every so often, it can sting slightly when the needle is inserted. This is because of the location on the body of some points and what the surrounding anatomy is like.
After needle insertion it is common to feel:
Acupuncture should be a relaxing experience and in a comfortable environment. For more frequently asked questions please click here
Feel free to get in touch here if you should have any other questions or concerns.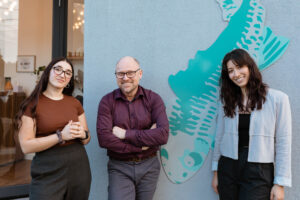 Nick, Michelle, Liah and the rest of the team at Gardenvale TCM