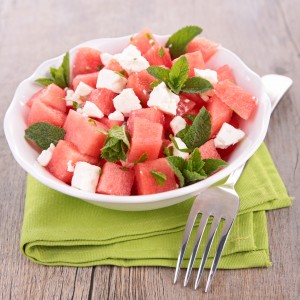 Watermelon is a great treat on a hot summer's day. Sweet and cooling, watermelon benefits the bladder and spleen, encourages urination and eases sore throats.
Mint has aromatic and cool properties. Eating mint can help with diarrhea, painful menstruation and dissipation of body heat.
Try this recipe for a delicious, cooling and healthy option in summer.
Ingredients
180g feta, crumbled
1 bunch of mint leaves, larger leaves torn
500g watermelon, cut into chunks
1 small red onion, finely sliced
Extra virgin olive oil
Method
Combine feta, watermelon, mint and red onion in a bowl. Drizzle with extra virgin olive oil and sprinkle with black pepper.
Recipe courtesy of Kate McCullough
Click here for more information on which foods can help you keep cool through the summer season.