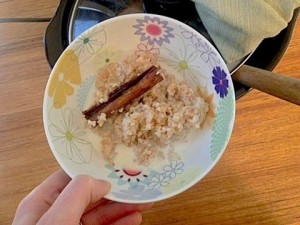 We all know the saying "breakfast is the most important meal of the day", and it's true! A good breakfast provides energy and improves concentration, learning and creativity. Eating a nutritious breakfast can even help with weight loss, as it kickstarts your metabolism. Further, research shows those who have breakfast tend to eat better during the day. So remember, even a small breakfast is better than no breakfast!
If you have a hectic lifestyle and little time to eat in the mornings, then this is the recipe for you. Simply start cooking the night before, and wake up to a delicious and nutritious breakfast that is ready to eat.
Cinnamon is sweet and warm, good for anyone who is feeling weak, chilled, or hot and cool at the same time. It also improves circulation to warm cold hands and feet. Apples and pears are useful for producing fluids within the body and can help to get rid of phlegm.
Easy Winter Porridge
Ingredients:
1 cup steel cut oats*
6 cups water
1 stick cinnamon
1 cup chopped apples, pears or other seasonal fruit
Method:
Place all ingredients into a slow cooker set to low, and leave overnight
* Steel cut oats are whole oats cut to small pieces, with minimum loss of fibre and nutrition. They take longer to cook and were originally called Scottish or Irish oats.
Easy Variations:
The beauty of porridge is that you can mix up your recipe every morning! Here are some of Christina's favourite flavour combos:
| | |
| --- | --- |
| | |
| Cooked buckwheat and quinoa porridge, healthy raw nuts, nashi pears, stewed apples and fresh figs. | Rolled oats, mashed banana, healthy raw nuts, fresh kiwi fruit and dried cranberries. |

This Easy Winter Porridge recipe is courtesy of Sunflowers and Silverbeet, a website with

a focus on urban sustainable living. Check them out here: http://www.sunflowersandsilverbeet.com.au/