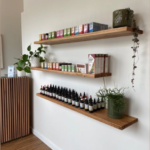 Gardenvale Chinese Medicine is based in Caulfield South on Hawthorn road between Princess Park and North Road. There is ample street parking outside the clinic on the main road.
For a location map click here
We love to support local businesses that promote healthy eating and living. If you are looking for a good organic grocery store in Caulfield head to Yum Organics. All of their products are certified organic and they offer a home delivery service.
The Clinic
You will find the clinic is fresh, comfortable and inviting. All of our practitioners are Government registered, have ample experience and are equipped to assist with a large range of health and lifestyle concerns. For more information please click here.
Services Offered
Our practitioners utilise the modalities of acupuncture Chinese herbal medicine combined with diet and lifestyle. You can choose from one of the following appointment types:
Initial acupuncture consult and treatment
Follow up acupuncture consult and treatment
Chinese herbal consult
Hi caps available for acupuncture appointments Click here for a full list of current pricing.
If you are not sure what to book please get in touch and we'll help. Your practitioner will discuss the best strategy for treatment and include lifestyle changes and better eating habits during the consultation.
For any other questions or concerns you may have please get in touch here